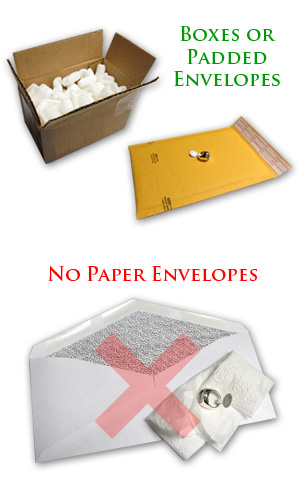 If you purchase a ring and decide the fit isn't ideal, we can do an exchange if the ring is in unworn condition (no scratches or dents).
To begin the process, please send us an email so we can make sure the size you need is available.
Enclose the item in a padded envelope or box; do not use a plain paper envelope as it will tear in the sorting machines resulting in the ring being damaged or lost. Improperly packaged rings may be rejected and returned to the sender.
Please allow 7-10 business days for the processing of your exchange.
Our return address is:
Moonlight Mysteries
PO Box 486
Caledonia, MI 49316
USA
Enclose a copy of your packing slip or receipt with the size you need noted. We'll send you an email when it arrives and provide you the new tracking number.